Don't be frustrated with the Lace Tool in DAK!
Many knitters have found that working with the Lace tool in Stitch Designer can be frustrating.

They find that the software gives lots of cryptic messages as you are designing.

DesignaKnit is very powerful and it applies knitting 'rules' to your designs based on your machine and basic machine knitting practices.

For example, as machine knitters, we can't put 2 eyelets side by side. DAK will stop you and remind you that this is a no-no.

In addition Brother/ KnitKing and Silver/Singer machines work differently. One uses a single lace carriage the other uses 2 carriages. If you try to design a stitch pattern or sequence of symbols that are inappropriate for your machine, DAK will let you know!


Use the power of Stitch Designer to copy or create beautiful lace stitch patterns.
Use it to create knitting diagrams for hand knitting, hand manipulation or create patterns to use with the lace carriage on your standard gauge knitting machine.
DAK 8 or 9
NOTE: If you use a Brother 970, Lace patterns will not download to the CB-1 Box
$49.99US
Buy the course
This course will walk you through using the symbols to create your stitch patterns AND the rules DAK applies.
You will walk away with a better understanding of not only how DAK creates Lace pattens, but how those lace patterns are used with your knitting machine.
---
About DAK and Lace
Stitch Designer makes it easy to create lace stitch patterns
Lace Smart Symbols
Intelligent Symbols to create knitting instructions specific for machine knitting
Your Turn: Practice with the Lace Tool
Learn by doing
Machine Specific: Singer/Silver
Rules that Stitch Designer applies for these machines that use a single lace carriage


Machine-Specific: Brother/Knit King
Rules the Stitch Designer applies for machines that use 2 carriages to create lace


Create a Pattern Start to Finish
Machine-specific demo of copying a design and a walk through of how the design is knit
Buy the course
Who is this course for?
Are you ready to put the power of the Lace Tool to work?
Create lace diagrams for hand knitting or hand manipulation
Create downloadable lace patterns for your electronic machine
Create punchcards
Use Interactive knitting to make knitting lace easier
You've tried to use the Lace tool, but got stuck
Learn the DAK "rules" for creating lace on a knitting machine
Machine-specific instruction (Brother and Singer/Silver)
Unravel using the Smart Symbols with your machine (punchcard or electronics)
Use Interactive Knitting to make knitting easier
How does this work?
Think of an online course as a book ... a 21st Century Book!
With videos, walk-throughs, exercises and practice challenges, this interactive course will have you using DAK, not just reading or watching videos.
The course material is yours forever There is no time limit and you can refer to the material as often as you like.
Use the course on any device
BONUS!
With the purchase of the course, you receive unlimited access to our
Tools Glossary
with animated descriptions of each of the tools in all of the DesignaKnit Programs (So much better than the index in a book)
PLUS!
The
Tools Cheatsheets
will help you refer to the tools info with just a click!
Learn DesignaKnit courses are designed to help you UNDERSTAND the software so you can accomplish your design goals.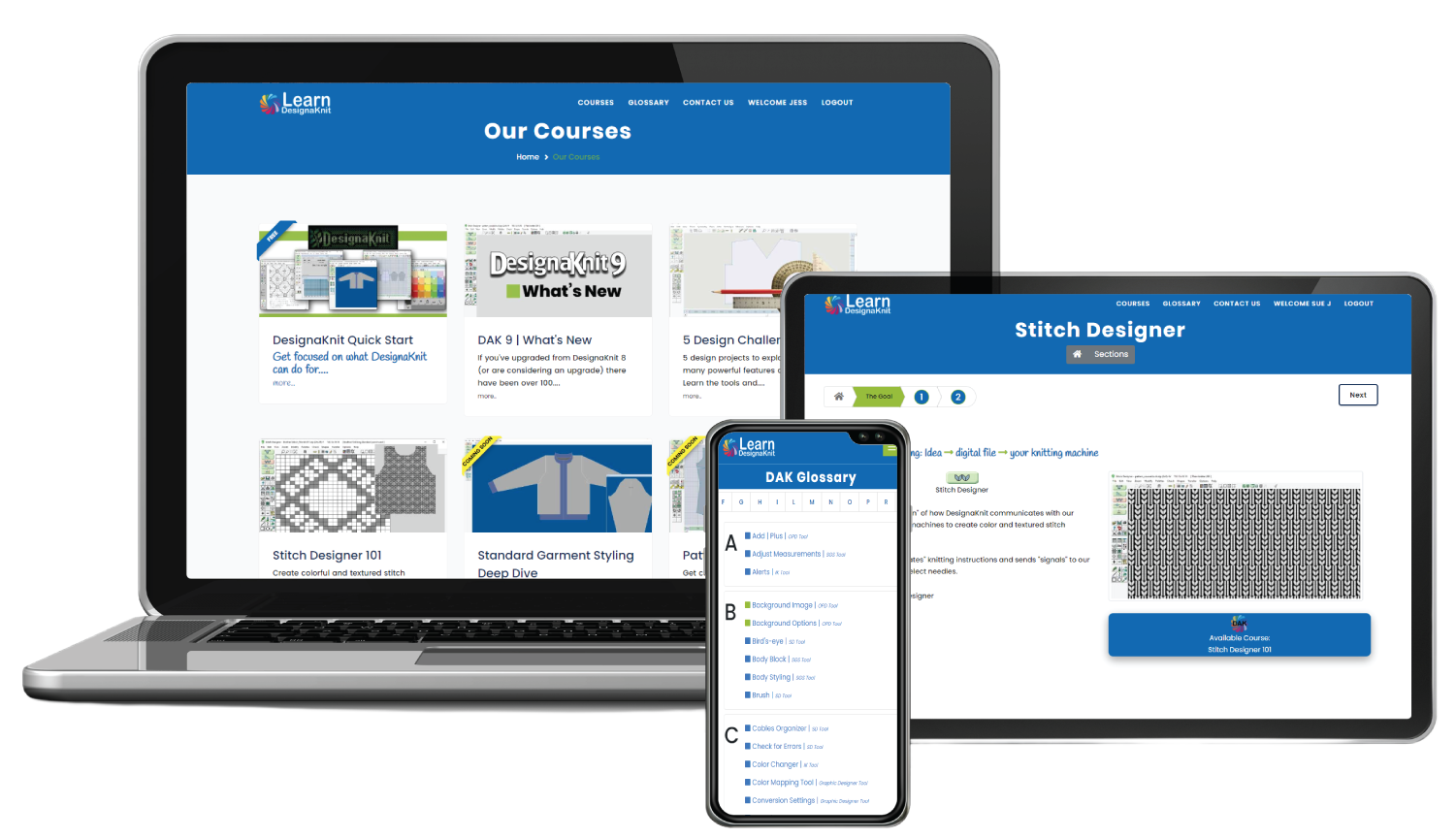 Check out all of the courses
Buy the course