Original Pattern Drafting 101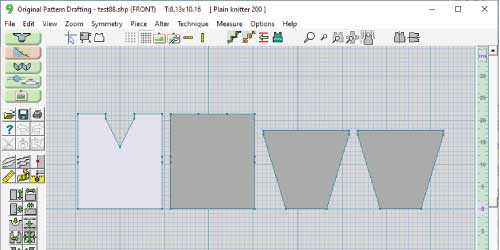 Explore 4 ways to get designs into Original Pattern drafting to turn your design ideas into knitting patterns.
Original Pattern Drafting Essentials
Get familiar with the workspace and explore commonly used tools
Quick Start using Standard Garment Styling
Quick Sweater Designs from DAK templates
Copy a Hand Knitting Pattern with No Diagram
No diagram? No Problem!
Copy a Hand Hand Knitting Diagram
The HK pattern includes a diagram. Use a combination of the measurements AND the written instructions to get the shapes into DesignaKnit
Trace an existing diagram to create a shape file in Original Pattern Drafting. Although the Trace feature is part of DAK 9, the process of creating a shape from a diagram using points is the same in DAK 8. This exercise will expand your knowledge of Original Pattern Drafting in both version 8 and 9.
Integrate Stitch Patterns
Best of Both Worlds: Stitch Patterns and Shapes
Knitting your Original Design
Get Knitting!